Our Priority
The Shared Future Coalition focuses on preventing alcohol use among adolescents. The human brain does not fully mature until the mid-twenties.1 Using alcohol before the brain is fully developed can interfere with the final stages of brain development.2 When children and teens begin using alcohol before the age of 15, research shows that they are four times more likely to become chemically dependent in the future.3 Due to limited resources, the Shared Future Coalition prioritizes alcohol misuse prevention among 12-25 year olds in order to foster healthy brain development that can have positive impacts on health and wellbeing far into the future.
"…the earlier the exposure the greater the risk."
Individuals who start using substances during adolecence often experience more chronic and intensive use, and they are at greater risk of developing a substance use disorder compared to those who begin use at an older age. In other words, the earlier the exposure the greater the risk.
The Surgeon General's Report on Alcohol, Drugs, and Health 2016.
Our Position
Young people under the age of 25 and other vulnerable populations are particularly susceptible to the effects of excessive alcohol use.4,5 Excessive alcohol use includes any use under the age of 21, heavy drinking, and binge drinking.6 Young adults ages 21 to 25 who use alcohol can use the low-risk drinking guide below to reduce the negative impacts associated with alcohol use:
Low Risk Drinking Guide7
| | |
| --- | --- |
| 0 | Zero drinks for those who are under the age of 21; are driving, cycling, etc.; have medical issues |
| 1 | One drink per hour is about what our bodies can process |
| 2 | Limiting drinking to two times per week results in less negative consequences for young adults aged 21 to 25 |
| 3 | Sticking to three drinks on a special occasion can decrease the likelihood of alcohol-related problems |
Supporting Data
Cause for Concern
In 2019, 26.9% of Deschutes County 11th graders (16-17 year olds) reported having at least one drink of alcohol in the past 30 days, as compared to 24.3% statewide.8
Cause for Hope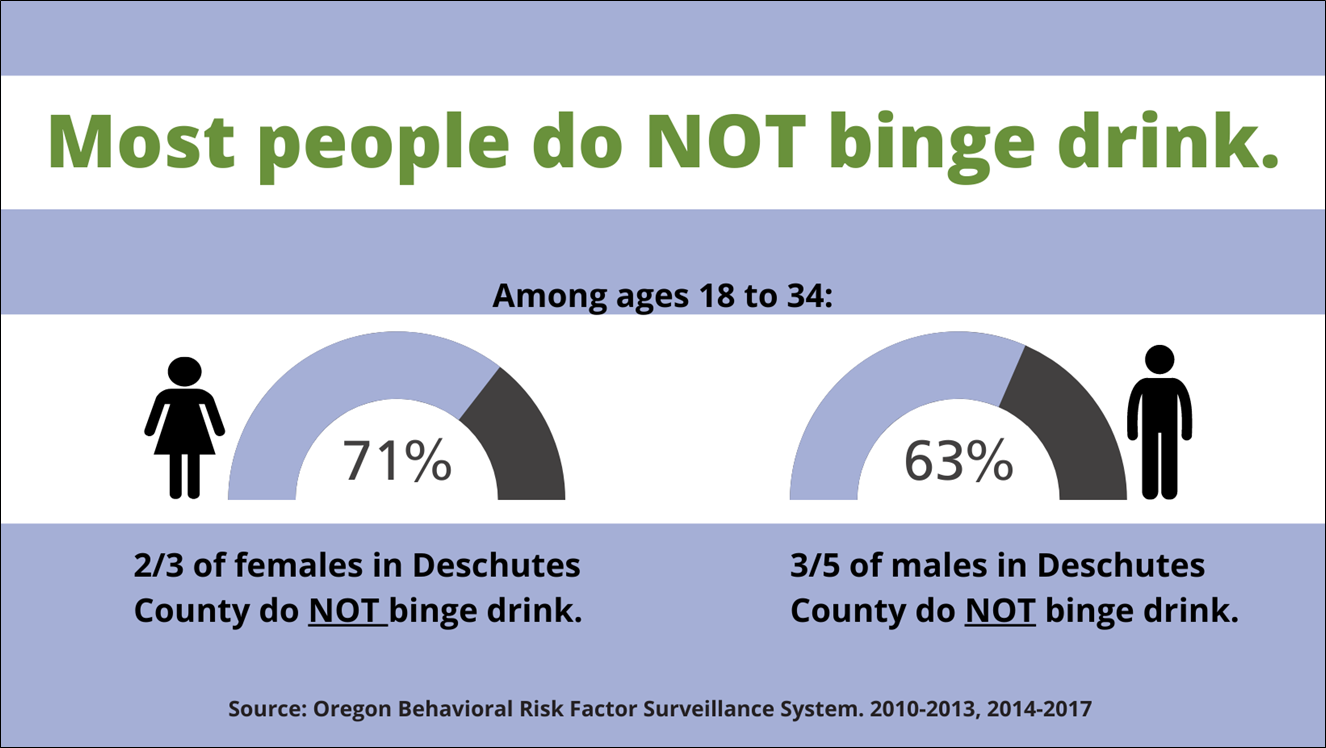 Our Solutions
Our high level goal is to reduce underage and binge drinking for people up to age 25
The Shared Future Coalition recognizes that the negative impacts of alcohol use are not the same for all people in Deschutes County. The Shared Future Coalition strives to meet the needs of those who are at greatest risk of misusing alcohol, as well as the needs of people who are experiencing higher levels of negative impact from alcohol misuse. Young people under the age of 25 and other vulnerable populations are particularly susceptible to the effects of excessive alcohol use, as noted in our position statement.
Example Projects
"UpShift" program in Bend-La Pine Schools and Sisters School District
All students who violate school district alcohol use policies have access to individualized services designed to stop alcohol or other drug use
Services offered have been shown to be effective in research studies
---
Connect Workshop for Parents
FREE, two-hour workshop for parents and guardians in Deschutes County to learn factual, unbiased information and skills to start conversations with their kids about alcohol and other drug use
---
Assessment of community events in Bend (2019-2020)
Assess availability and promotion of alcohol, community norms, and possible consequences associated with alcohol use among minors and young adults ages 21 to 25
Qualitative data collection: event observations, key informant interviews, focus groups, digital media scans
Quantitative data collection: law enforcement and emergency room data
---
Public Awareness campaigns (2013-2015)
Presented the low-risk drinking guide
Defined binge drinking, shared data that most young people don't binge drink
Reminded people aged 21 and over not to provide alcohol to minors
Engaged young adults in a video contest promoting healthy choices related to alcohol use
Articles and Information
Alcohol Poisoning
Alcohol poisoning is a serious, and sometimes deadly result of drinking large amounts of alcohol in a short period of time. Recognizing and responding to alcohol poisoning can help save a life.
Learn More
Facts About Alcohol
Alcohol is a drug. It is the most commonly used and widely abused drug in the world.
Legal Consequences of Underage Drinking
The State of Oregon takes underage drinking very seriously. There are eight different Oregon Revised Statutes devoted to this issue.
Oregon's Alcohol Laws & Minors
Successful Party Hosting for Ages 21+
For parties where guests are 21 years or older, here are some tips for keeping alcohol consumption in check. Remember, furnishing alcohol to minors is both illegal and harmful. These tips are provided for parties for the 21+ crowd. Offering alcohol at your party comes with responsibility – get informed and take action to prevent binge drinking.
Tips for Parents/Guardians:
Studies show that parents have the most impact on their children's decision to avoid substance misuse. Talking clearly and often with your child/teen about not misusing substances is proven to work. It is also important for parents/care givers to model positive, healthy behaviors.
Make clear to your child that you do not approve of substance misuse. Connect your position to your values as a family.
Make family rules and follow through with them every time. Reward the actions you want to see, too!
Bring up the topic of drug use early. Check back in with your teen often. Talk about what your child can do to be healthy.
Use parent toolkits and information to help you speak with confidence. Sign up for a free, two-hour Connect Parent Workshop. These workshops give parents and guardians information and tips to have effective talks with their kids about substances.
Get to know your teen's friends. Make sure you know what activities they do together. Talk about how they can avoid activities where substance misuse may be happening.
Learn more about how substances can affect your teenager's growing brain.
Look into your family history to see if there is a history of addiction. This could mean your family is more at risk.
[1] Fostering Healthy Mental, Emotional, and Behavioral Development in Children and Youth: A National Agenda. (2019). The National Academies Press. https://doi.org/10.17226/25201

[2] Hiller-Sturmhofel, S., & Swartzwelder, H. S. (n.d.). NIAAA Publications. National Institute on Alcohol Abuse and Alcoholism (NIAAA) Publications. Retrieved November 8, 2021, from https://pubs.niaaa.nih.gov/publications/arh284/213-221.htm

[3] Grant, B. F., & Dawson, D. A. (1997). Age at onset of alcohol use and its association with DSM-IV alcohol abuse and dependence: results from the national longitudinal alcohol epidemiologic survey. Journal of Substance Abuse, 9, 103–110. https://doi.org/10.1016/s0899-3289(97)90009-2

[4] 2015 National Survey on Drug Use and Health: Detailed Tables. (2015). Substance Abuse and Mental Health Services Administration. https://www.samhsa.gov/data/sites/default/files/NSDUH-DetTabs-2015/NSDUH-DetTabs-2015/NSDUH-DetTabs-2015.pdf

[5] 2015 National Survey on Drug Use and Health: Detailed Tables. (2015). Substance Abuse and Mental Health Services Administration. https://www.samhsa.gov/data/sites/default/files/NSDUH-DetTabs-2015/NSDUH-DetTabs-2015/NSDUH-DetTabs-2015.pdf

[6] National Center for Chronic Disease Prevention and Health Promotion. (n.d.). Excessive Alcohol Use. Centers for Disease Control and Prevention. Retrieved November 10, 2021, from https://www.cdc.gov/chronicdisease/
resources/publications/factsheets/alcohol.htm

[7] Alcohol Use and Your Health | CDC. (n.d.). Centers of Disease Control and Prevention – Alcohol and Public Health. Retrieved November 8, 2021, from https://www.cdc.gov/alcohol/fact-sheets/alcohol-use.htm

[8] Oregon Health Authority. (2019). 2019 Results : Oregon Healthy Teens Survey. Oregon Health Authority : Oregon Healthy Teens Survey. Retrieved November 3, 2021, from https://www.oregon.gov/oha/PH/BIRTHDEATHCERTIFICATES/SURVEYS/OREGONHEALTHYTEENS/Pages/2019.aspx

[9] Oregon Health Authority. (2010-2018). Student Wellness Survey. Health Surveys : Oregon Health Authority. Retrieved November 3, 2021, from https://www.oregon.gov/oha/PH/BIRTHDEATHCERTIFICATES/SURVEYS/Pages/Student-Wellness-Survey.aspx

[10] Oregon Health Authority. (2010-2018). Student Wellness Survey. Health Surveys : Oregon Health Authority. Retrieved November 3, 2021, from https://www.oregon.gov/oha/PH/BIRTHDEATHCERTIFICATES/SURVEYS/Pages/Student-Wellness-Survey.aspx

[11] SAMHSA. (2019, December). 2017-2018 National Survey On Drug Use And Health: Model-Based Prevalence Estimates (50 States And The District Of Columbia). Substance Abuse and Mental Health Services Administration. https://www.samhsa.gov/data/report/2017-2018-nsduh-state-prevalence-estimates

[12] Oregon Health Authority : Oregon Death Data : Death Data : State of Oregon. (n.d.). Oregon Death Data : Oregon Health Authority. Retrieved September 15, 2021, from https://www.oregon.gov/oha/ph/birthdeathcertificates/vitalstatistics/death/pages/index.aspx

[13] Oregon Health Authority. (2010-2018). Student Wellness Survey. Health Surveys : Oregon Health Authority. Retrieved September 15, 2021, from https://www.oregon.gov/oha/PH/BIRTHDEATHCERTIFICATES/SURVEYS/Pages/Student-Wellness-Survey.aspx

[14] Oregon Health Authority : BRFSS Data : Results by County : State of Oregon. (2010-2013, 2014-2017). BRFSS Data : Oregon Health Authority. Retrieved September 20, 2021, from https://www.oregon.gov/oha/PH/BIRTHDEATH
CERTIFICATES/SURVEYS/ADULTBEHAVIORRISK/COUNTY/Pages/index.aspx

[15] Oregon Health Authority : BRFSS Data : Results by County : State of Oregon. (2010-2013, 2014-2017). BRFSS Data : Oregon Health Authority. Retrieved September 20, 2021, from https://www.oregon.gov/oha/PH/BIRTHDEATH
CERTIFICATES/SURVEYS/ADULTBEHAVIORRISK/COUNTY/Pages/index.aspx